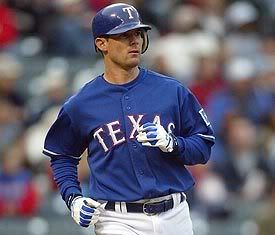 Recent reports about Texas Rangers shortstop Michael Young requesting a trade are intriguing. The Twins certainly could use Young at shortstop (he's bailing on Texas because the Rangers want to move him to third base). If they did that, Nick Punto could slide over into the third base platoon and all would be happy in Twinsville.
There are two problems with this scenario, however. First, the Twins would have to
trade
for Young. Young isn't just some run-of-the-mill player. He's a great hitter and average fielder who took over at short when Alex Rodriguez left the Rangers. My guess is teams like Boston, the New York teams, Los Angeles, et al woul be bidding competitors. At least, teams have been asking for starting pitcher Kevin Slowey and outfielder Denard Span in any trade talks the Twins have had with other teams. Personally, if the Twins could get Young for Slowey and Span and nothing else, I think I'd take the trade. That's me -- not Bill Smith.
The second -- and more pressing -- issue is Young's contract. Young, 32, is beginning (yes beginning) a five-year contract which pays him $80 million through 2013. I don't see the Twins paying anyone $16 million per season (Justin Morneau tops the Twins with $8.4 million per season). The five-year contract puts Young at 36 years old when it's over. The Twins just don't compete when contracts like this are on the line. This is L.A., Chicago, New York, Boston, Philadelphia territory and Twins Territory is a world away.
* Photo courtesy of
Chickball
.