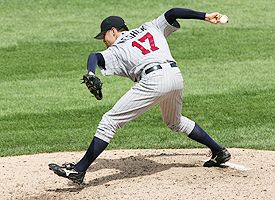 F
riday
and Saturday's wins over the Royals put the Twins back at .500 (3-3) and exposed some items of promise:


Justin

Morneau

is beginning to look like he's getting his swing back. The three-run homer he hit Saturday shows that if he keeps swinging hard, good things eventually will happen and he'll get himself back on track at

the

plate.



Michael

Cuddyer's

injury isn't exactly a good thing, but it does allow

Denard

Span to show off his stuff at the major league level -- something he's definitely earned after a strong Spring Training. My guess is Span will see time in the outfield with Jason

Kubel

going back into his DH platoon role. Span,

Delmon

Young and Carlos Gomez would be a fun (and speedy) outfield to watch, even if just for a game.




If Span can do much of anything, maybe it will place the Twins in a position to ponder releasing Craig Monroe and keeping Span with the team: a nice thought considering how atrocious Monroe looks at the plate.




Spaz Neshek looks dominating as he did the first half of last year, yet somehow he's looking smarter with pitch selection and working counts than he did as a rookie. Neshek and Joe Nathan have been lights out -- a tandem so many teams in the league would love to have ... just ask Detroit or Seattle.




Small ball may be the wave for this team. Playing National League baseball with all this youth and speed (did you see the suicide bunt play on Friday?) makes for excitement when the long ball is so very elusive.




Beating Kansas City when they should beat Kansas City is a must for a team that wants to stay ahead of .500 and be considered a playoff contender. The Twins did just that twice.




Livan Hernandez has gone two straight games of doing what you'd expect or hope. He's eating up innings, keeping the team in the game, and not getting shelled beyond belief. In short, he's better than a Cuban Sidney Ponson. The longer he can do this allows more time for the young arms to develop and find their niche.




Detroit has been terrible. The Tigers won't stay unbeaten forever, but going 0-for-5 to start the season sure makes you feel good to be a Twins fan. When we were sitting around all winter asking why we didn't trade for the Marlins' Miguel Cabrera and Dontrelle Willis or even to get back former Twin/Cub Jacque Jones (hey, I'd rather have Jacque Jones than Monroe, wouldn't you?), the Tigers were spending away. Cabrera's hitting .125. Willis has a 5.40 ERA. The longer the Twins can keep a few games ahead of the Tigers and Indians the better.




Finally, Carlos Gomez has gone nearly a full week of playing well. Friday's win was sparked by Gomez's electricity on the field. When he gets on base, things happen. Even if he goes 0-fer again in Sunday's series finale, his confidence has to be on the upswing. Confidence and comfort are keys to his development. The more he can feel like a big league ballplayer, the better the chances are he'll be able to continue to progress.