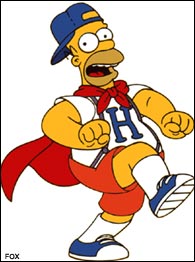 Twins love the
binary
system
Crappy offense yields nothing. Nothing.
By Bullpen Catcher
Homer: [on phone] Yeah, Moe, that team sure did
suck last night. They just plain sucked! I've seen teams suck before, but they were the suckiest bunch of sucks that ever sucked.


The Twins dropped yet another game last night, this time their offensive eruption wasn't enough to hold of the Los Angeles Angels of Anaheim, California Which Is Located In The United States Of America Baseball Team. The Minnesotans exploded for one run.




There's something wrong here. Binary system wrong. All 1's and zeros.




How's this for outbusts of offense? The Twins wasted a bunch of runs on the Omaha/Kansas City Royals on August 8 (11), but otherwise have nubbed out run totals of 1, 1, 1, 0, and 1 dating back to last weekend. Previous to that the Twins went on a 3, 2, 3, 5, 3 tear. Those numbers aren't going to cut anything, let alone with Scott Baker and Boof Bonser in the rotation.




It's gotten so bad even More-yes is in a hitting slump and not even hitting dingers to keep me interested. Did you notice John Mauer is hitting under .300. I guess it's time for everyone to start talking about moving him to shortstop or something.